The iPhone 6 generation may be more than five years old, but it hasn't stopped being a great device. And with the release of the iPhone 11, you can expect the iPhone 6 to dive into further affordability, used or new.
Released in September 2014, these phones were Apple's response to repeated calls for larger screens, which at the time were only available on Android phones. The iPhone 6 came with a 4.7" retina display (5.5" on the 6 Plus), which was a big jump over the 4" screen on the iPhone 5S. In the first 3 months, Apple sold 74 million devices, more than 40% more than the iPhone 5S!
When the iPhone 6 was announced in 2014, Apple advertised it as its first "big" phone. iPhone 6 and iPhone 6s smartphones are 4.7 inches while the iPhone 6 Plus and iPhone 6s Plus are 5.5 inches, although at this point, the iPhone 11 Pro is 8.5 inches, and iPhone Pro Max is 6.5 inches. iPhone 6 series phones are pretty much consistent with the newer iPhones and can update to iOS 13, except for the iPhone 6. Only 6s and above can upgrade higher than iOS 12.
Size and design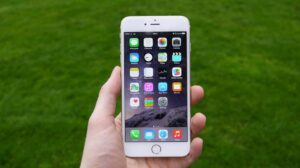 The iPhone 6, the smaller of the two phones, is the one that works best. Apple has gone back to rounded edges this time around, moving away from the dead straight sides of the previous four handsets (the edges of the glass on the front are slightly curved, too), and this works to create an impression that the phone is smaller than it is. It's comfortable to hold, doesn't feel too slippery in your hand – an accusation I could level at the iPhone 5 and iPhone 5s – and the 4.7in screen size feels just right.
Display
The sleek industrial design is accompanied by a swathe of upgrades to the hardware inside, but it's the screen that makes the most significant impact. The camera is one feature that smartphone manufacturers have kept improving over the years. That being said, the iPhone 6 camera's specs are nothing to scoff at. An 8-megapixel iSight back camera that delivers sharper images and better low-light performance than the camera on the iPhone 5S. When it comes to video, the iPhone 6 offers 240 frame-per-second (FPS) super Slo-mo shooting at 720 pixels. That's double the FPS on the iPhone 5S!
iPhone 6 is Still a Great Device
If screen size and price matter to you, the 6 is probably the best phone for you. You can't get that 4.7" screen for less. You also won't be giving up much in the way of speed, unless you're planning on doing some pretty heavy-duty gaming on the device.
So what are you waiting for?
Contributed by: CellResell.ca, the foremost experts in cellular mobile phones and accessories